About Us
Millingtons 'The Paper Experts', located in the Cheshire town of Altrincham, have been established since 1982.
The family, however, have been in the paper industry for over 100 years. In the 19th century the supply of paper to traditional industries dominated Millingtons' order book. In the 21st century the objective of Millingtons is to provide the paper industry with a specialist slitting and rewinding service.
One of the requirements of the paper industry is for precision narrow coil slitting, with the emphasis on widths, diameters and centres being as flexible as possible. Millingtons are able to provide this service with precision slitting of narrow coil widths from 7 mm to 1270 mm, rewound to diameters and on centres to your specification.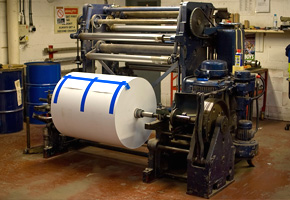 To give Millingtons customers speed of service we stock a wide range of industrial application papers. Our papers are suitable for many industries from the book and shoe trades to the cable industry and stainless steel manufacturers.
We offer a responsive service, quick turnaround, and can handle both small and large orders. Customers' own paper direct from the mill can be stocked, slit and rewound to specified demand schedules, and direct delivery to 3rd parties can be arranged.
Contact us today for further details of all the services that Millingtons can offer, and how your company's paper slitting and rewinding requirements can be supplied.